Night Vision Equipment: What Is It For and How Does It Work?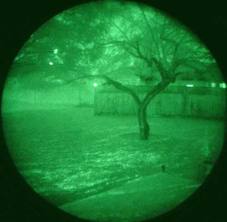 Most people are not able to view much at night or in a space of complete darkness. With night vision equipment anyone is capable of seeing their environment in total darkness. Many night vision products have heat detecting capabilities, often know as thermal imaging. Superior quality night vision goggles and accessories allow anyone to accomplish night time activities conveniently and without difficulty.
Depending upon on what technologies are used, night vision is accomplished in a couple of ways. The first one is by means of image enhancement while the other generates use of thermal imaging. While it is still widely used by the military, top quality night v ision equipment is currently offered to the general population. The accessories available are quite sophisticated as many are fitted with night image enhancements and thermal imaging.
Soldiers using night vision aids are in a position to check their surroundings for possible enemies. Those not equipped with night vision leave themselves vulnerable to their enemies. Being able to see in the dark enables them to clear an area safely. Oftentimes, in critical weather conditions sailors and pilots are required to navigate at night. Utilizing night vision goggles and other equipment along with strong skills, these individuals can spot obstacles and avoid sea or air mishaps.