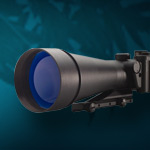 Cheap Night Vision Scopes
There are quite a few cheap Night Vision Scopes on the market. These lower priced night vision rifle scopes are typically Gen 1 and digital technology. The big problem with many of these inexpensive scopes is that the recoil from most rifles including small caliber ones will often knock your zero off. This can be one of the most frustrating things that can happen to a shooter and many a scope and rifle have been thrown on the ground (and kicked) after hours of sighting in to get it perfect, only to have the night vision scopes' zero "jump" on your next shot. This is why our selection of cheap night vision scopes is limited to the models below.
Our Gen 1 ATN scopes are very reliable, hold their zero and offer night vision performance that will rival much higher priced night scopes. The most popular of these three is the ATN MK 390 Paladin with it's versatile 4x magnification lens however, the MK 350 Guardian is light and fast at short ranges and the MK 410 is great when you need a little more power.
For great digital night vision performance our two Yukon scopes are excellent choices offering very solid reliability at affordable prices. These Yukon models feature a special long rail design that gives the shooter natural positioning as well as allowing these scopes to be mounted on the widest range of rifles including bolt action style.
If your looking for the overall best night vision scope under $1000 the Sightmark Night Raider may be the ticket. It has excellent performance for this price point and includes many great features. The wide field of view and light weight make this scope fast and agile. It is packed full of many innovative features and has the perfect amount of magnification for scopes in this range. ~NightVision4Less
Gen 1 Night Vision Scopes
(17)